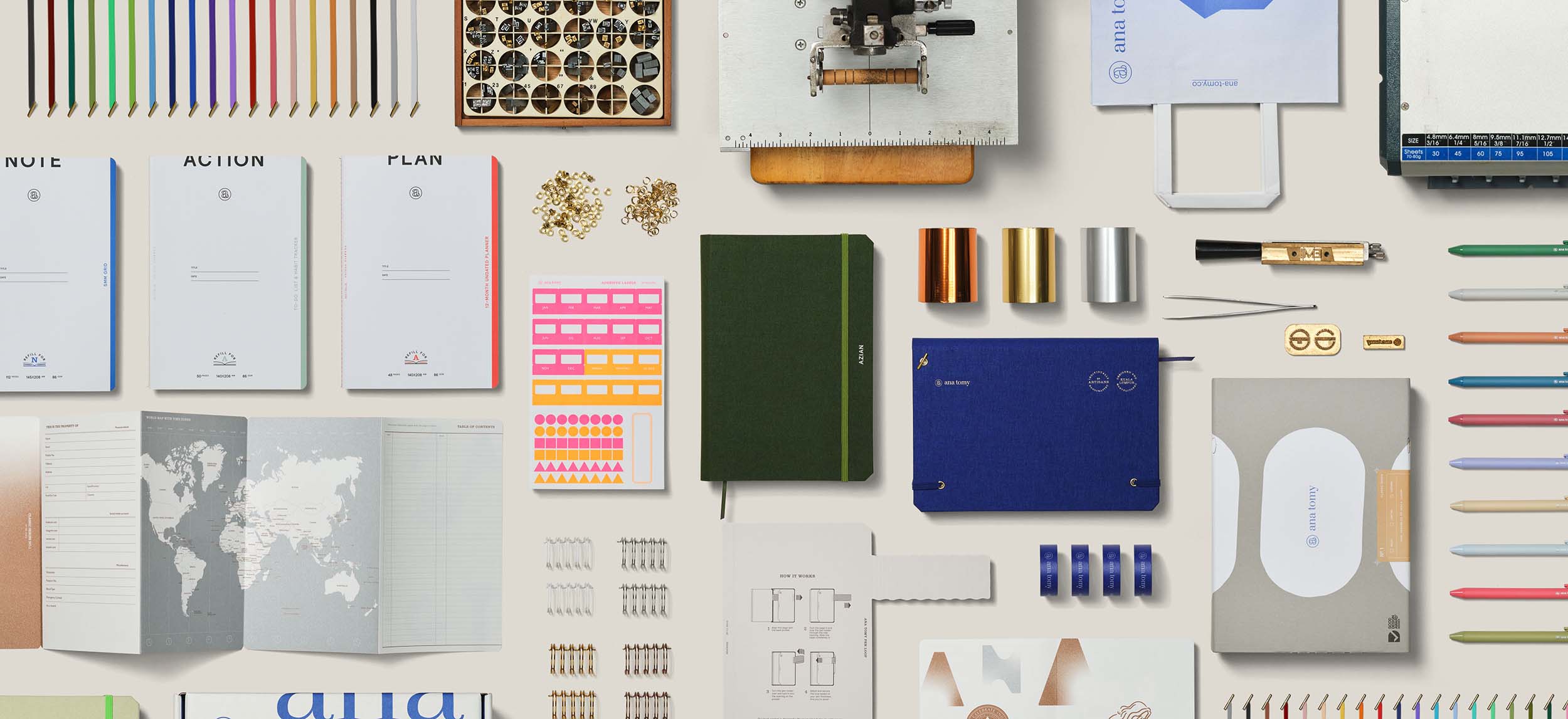 By Amir H.
"How can we make notebooks more personal?"
This is the first question we asked ourselves in 2016 when ana tomy was born. After years of observing the stationery market, we thought it'd be cool to make something that was more suitable to our unique tastes. The challenge: there were three of us, and we couldn't seem to quite agree on what would be the optimal design for a notebook. So, rather than create a singular product, we decided to create a system to make your own notebook instead. That's how the Classic series was first given life. It's also when we thought that mass customisation could be a serious game changer in how products should be made.
Why notebooks?
Since ana tomy was the brainchild of the same folks who founded The Alphabet Press, we thought it was a natural course to pursue our idea of mass customisation through the medium of notebooks. After all, we're very familiar with what makes for good paper and we had the know-how of premium printing techniques. Now the challenge was getting a bunch of good paper together, protecting it with a cover, and coming up with a system to allow our future collaborators to choose what they want for their notebook. We also thought that it might be a more commercially viable product compared to our artisanal letterpress printing services.

So, apa lagi? We decided to put our best feet forward (again, there were three of us), and pitched our idea in a start-up competition organised by Alliance Bank. Out of 1000+ applications, we managed to count ourselves among the Top 20 in the final round of the competition. We didn't win the competition, but we managed to score the Viewer's Choice Award from HyppTV. That was enough to encourage us to begin our journey.
Approaching mass customisation.
As we mentioned earlier, we were curious about creating a system to make your own notebook as opposed to thinking of one for you, and every other potential end user. As you can probably imagine, thinking about what billions of people might need from a notebook is a daunting task. So, we thought since our potential end users are more than capable of choosing for themselves, we just needed to give them the pieces and playground to do so.

It would have been costly for us and the end users, had we approached a true customisation experience. Taking exact measurements for every component of a notebook would have been unsustainable for us, due to the time needed to discuss the design, and that is without factoring in the costs required to manufacture the notebook according to a user's specifications! So, we thought of creating a set number of pieces which you could mix-and-match for your notebook. This made it easy for us to allow more freedom in terms of colour options by restricting the design choices. After all, allowing oneself to be constrained in one area, allows us to be liberated in others.

It just so happens that the experience of mass customisation is like creating something of your own through LEGO blocks or creating your own ideal nasi kandar through selecting your preferred choices of meats, curries, and other lauk-pauk. Nearly 6 years later, this concept has proved itself interesting to the world and we're glad it remains that way.
What we think is cool about our notebooks.
When we set out to design the components of our mass customisation system for our notebooks, we thought it'd be pretty neat if we introduced a few design elements that made the end product fun to look at, use, and revisit. We were also careful not to take too many design elements from a singular source and run the risk of plagiarising another's work. As designers ourselves, we know how bummed out we'd feel if somebody else took our work and called it their own. We'd like to revisit why we care so much about plagiarism in another article for another day. For now, here are some little details that we enjoy about our notebook!

The Classic series as it stands today, is currently in its third version. For now, we'll be highlighting the features and little details of this iteration of the notebook, and we'll be recalling relevant elements from previous iterations of the notebook.
What make us "weird"?
Slimming down the notebook.
Our notebooks are technically A5, with just a little bit of the page trimmed off. The usual A5 notebook measures 148 x 210mm, our notebooks measure 135 x 210mm. We enjoy a slightly slimmer margin for our pages as it allows for the ring binding to fit well in the notebook, maintaining a sleek silhouette. We also like the way our writing, sketches, plans, and other jottings look on the page with slimmer margins. The slimmer margins heighten the rectangular dimension of the page, offering visual pleasure when revisiting one's work.
The backbone of our notebooks.
We're firm believers in innovation, but also have a taste for the romance of vintage objects. When we were designing the spine of the notebook, we wanted to include that romance of vintage objects. Inspired by old hardcover books, we opted for a rounded spine as opposed to the industry standard of a hard/square corner book. This decision synergized beautifully with the implementation of our twin-loop wire system. The o-wires used to bind the notebooks fit perfectly against the rounded spine, allowing the pages to be flipped easily, and offering a true lay-flat experience when we opened the notebook. This decision also helped to reduce unused space in the notebook's anatomy, as well as offering a cleaner and natural aesthetic. As a result, book cloth was the material best suited for our cover as it allowed the flexibility required for our rounded spines and offered strength to provide the end product with the best chance of withstanding a lifetime worth of use. It also helps that its character changes depending on how you care for your notebook, giving it a subtle beauty, which enhances the personalisation of your notebook.
Cutting corners (but not for profiting off customers).
Our notebooks sport straight cut corners as opposed to a rounded corner. This was not an intentional design decision, but a happenstance of the manufacturing process. We wrap our covers by hand, and rounded corners made it tough to do so. When we tried it with rounded corners, we ended up with imperfect wrinkles and very visible folding lines. A simple snip off the corner and wrapping became so much easier. That snip resulted in fewer steps required to wrap the cover as perfectly as possible. Fewer steps made for fewer mistakes, leading to less wastage of material. All around, a bona fide way to improve our manufacturing process.
Throwing notebooks for a loop.
With the first iteration of our notebooks, we wanted to make it spiral bound. Binding the notebook that way allowed for a lay-flat writing experience. However, there was still a problem we had to solve: we recognized the annoyance of our hands touching the wires as we wrote across the page. We asked ourselves a simple question: "What is the minimum number of wires required to keep a notebook bound well?" That's when we came up with the design for the twin loop wire. By reducing the presence of wires to its minimum, we were able to offer more comfort when our hands move across the page as we write.
"Have it your way."
The above quote is a tagline familiar to fast food enjoyers. (For the uninitiated, that's the tagline for Burger King.) We thought we could offer the same opportunity through our mass customisation system for notebooks. We are the first in Malaysia to introduce opportunities for the personalisation of your notebook, as well as refill options. With us, you can choose the colour and type of cover that you want, as well as the colours of the ribbon marker and elastic bands. (And that's just for the cover.) The best part: your decisions are not set in stone. You can change any part of your notebook at will, with the right tools.
The particulars of paper
Grams per square metre (gsm) isn't everything when it comes to paper. Thicker papers would render a smaller page count, add bulk to a notebook, and not necessarily guarantee a better writing experience. Good paper comes from a balance of the milling process, the pulp used, and the conditions the paper was milled in. We were adamant to get the best paper possible for the notebook system we had in mind. The one who eventually met our requirements was an Italian paper mill. It had the qualities of the writing performance we wanted: no feathering, no bleeding, and minimal show-through when working with our choice of inks. The paper's hue of a creamy white that remains bright but not eye-searing was also a pleasant bonus. These qualities enabled us to create a refill option that we thought would be valuable to our customers: a high page count and a pleasant writing experience.
Refilling is common. Notebooks should do the same.
We are generally unenthusiastic about parting with our notebook covers. Some of the notebook covers owned by us gained a wonderful patina or had some kind of mark related to a wonderful memory. Why did we have to say goodbye to these covers? They were still useable and useful. It was only the inside that needed changing, some new paper to fill with new stories. That's why when we designed our notebooks, they had to be refillable. By making it refillable, we also wanted to open up the opportunity for you to try out new styles of refills and new mixes of pages. For the Wirebound refill, you have 180 pages to make your playground for creative work. For the Trio Book system, you can switch out your booklet of choice for another booklet depending on what you need for that day. The possibilities are potentially endless for how you want to design your notebook. Try your first layout, find out what works and what doesn't, and try it again. Repeat as necessary and whenever you feel like it. We'll be happy to continue collaborating with you in the process of making your perfect notebook.
Celebrating you.
We were deliberate in placing our logo at the back of your notebook. When you greet your notebook, it should always be a reminder of what you made. Look upon the name you chose for the notebook (or the lack of it), the colour of your cover, elastic band, and ribbon marker, as well as the other little things that you've added to the cover of your notebook. Perhaps, you added some writing on the inside of your notebook or some stickers. Perhaps a little card is tucked in the accordion pocket to remind you of a special moment. Whatever you choose to make it yours, our logo remains in the back as a little reminder that we were happy to construct the canvas for your creativity.

As we continue growing as a group of creatives, so will the design of our products. We're hoping to provide more customisation options (more on our refills this time around), and we hope you'll be as excited as us to welcome them into your own notebooks. Last, but not least, we'd like to part with you a personal motto for engaging with our products (and with life!): "Jom cuba, let's try."
Choose your side…
Clothbound
Leatherbound